About God is Good Catholic VBS



Coming from Minnesota, we are kind, down to earth, but uncharacteristically direct! You might guess us to be"East Coast," when you read that Julia Johnson, and other Minnesota Catholic educators, noticed a real need for sound Catholic summer programs, that created energy for children. Sure. There were VBS programs that boasted didactic Teachings, but our amazing Catechesis was presented in a dry manner. Fun activities and user-friendly guides could be discovered, but were they solidly Catholic programs? Did teachers approve of their black and white photos or "pocket size?"  Not really!  So, about half a decade ago, after a year of development and activity testing, we sold our first theme. Julia enjoyed using her writing and teaching background. And, parishes who purchased God is Good VBS Kits grew excited about our colorful, user-friendly guides, children enjoyed amazing VBS weeks, and everyone celebrated our rich faith through vacation bible school.

We, at God is Good VBS are committed to forming children's faith, in an engaging manner. Our Catholic Vacation Bible Schools enrich Catholic faith and embrace Scripture. We praise the richness of Church Traditions and Scripture while praying, creating, singing and playing. Guidance from the Holy Spirit fosters children's love for Jesus as they participate in these wonderful opportunities. The only activities that our team enjoys more than developing curricula, is working with leaders AND, of course, spending time with children!  When you have questions about your curricula, we are a phone call away. Julia also happens to be pictured with her family in the photo below.
The children in this photo are some of our "curricula testing team members." They have been our first "curricula test team" for several years. Emily, Benjamin, Ryan, Michael, Joshua and Mary Johnson - ages ten  to twenty - participate in every God is Good VBS game, art project, prayer, song, dance, role play and snack. Then, we lead our curricula with a "large test group."  We improve aspects of curricula based on the children's feedback and performance of activities. Let's not forget that Mom, the veteran Catholic teacher, is awfully picky about the curricula, but also believes in fun education!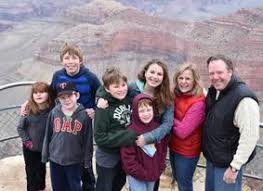 GOD IS GOOD VBS TEAM . . .
Pixpro Media of Minnesota is our new producer of Dance DVDs.
The late Father Mark Dosh provided the Nihil Obstats for our curricula. That was no small feat as he perfected our study of theology so that every lesson is taught in accordance to the Catholic Church. Father Dosh was ordained in 1958 before studying in Belgium and Rome. He taught philosophy and theology at St. Paul Seminary. Father was also a priest abroad in Latin America. Father Dosh was a dear friend to the Johnsons and celebrated  baptism, first reconciliation and first communion for all of the Johnson children! He also played a mean game of Sequence. He is dearly missed, as he passed away February, 2018. We pray for the repose of his soul, daily, but we are certain of God's Grace because our Father Dosh was so very Holy and kind.

Eric Johnson lends twenty five years of business experience and a strong Catholic background to God is Good Catholic Vacation Bible School. He has also "endured" being married to very busy, Julia for almost twenty-five years. He likes to say that having her teach their children is like having another child in the home all day long, as her energy and excitement can be a bit exhausting. "Not a bad day in the marriage . . . a bad week, a bad month, sometimes a bad year, but never a bad day. . . "  And, Eric is also the very patient father to the Johnson children.

​Quick Turn Duplication duplicates our CDs, Dance DVDs, and flash drives. Steve is a media master and prices his work reasonably, as his own family participates in VBS. He can be seen in flip-flops on a January day in his Minnesota's office.

Nicole Lunger contributes cover, marketing and logo designs for God is Good VBS.  ​She is also our master of a webmaster!
John Holden ​manages copy editing for God is Good Catholic Vacation Bible Schools. He has forty years of experience in advertising, marketing and writing, and has been deeply involved in church communications and stewardship.
Sam Alzheimer and Vianney Vocations provide the expertise when it comes to vocation education and God is Good VBS provides the child language and the VBS knowledge to develop one of our most popular themes: Discovery Mission VBS.
Studio D Dance Company​ and St. George's Dancers are the Dance DVD dancers. They are outstanding dancers and guides for our dances. Studio D is located in St. Bonifacious, MN. St. George's is in Long Lake, MN.
Brent Bischof prints our beautiful, one of a kind guides that we are most proud to offer our valued customers.
FAQs,  ANSWERS  and  COMMENTS
WHAT DOES OUR PARISH RECEIVE WHEN WE ORDER A GOD IS GOOD VBS DIRECTOR's KIT?
Your parish will receive a sturdy, plastic Director's Kit for the specific theme you choose. In that Director's Kit you'll discover a full sized Director's Guide and professional Director's Flash Drive. You will also receive our unique, colorful, Art, Game, Snack, Role Play, and Prayer Guides tor volunteers. Finally, your kit features a Dance DVD, CD, Posters and a FREE T-SHIRT, so you will know what to order for your kiddos! 
WHAT ABOUT EXTRA ITEMS TO ENRICH THE THEME?
We offer purchasing opportunities to buy Themed tees, CDs, Decorations, Color Sheets, Name Tags, Extra Guides, Posters and extra fun God is Good Items!
WHAT ARE THE AGES THAT ENJOY GOD IS GOOD VBS PROGRAMS?

Children ages 4 to 12 participate 

as learners in groups. Children who are in middle school are typically enthusiastic group leaders.These mentors also decorate, answer higher level questions and shine in role plays, dancing and singing. High school students, parents, grandparents and others volunteer to prepare and lead the various faith formation stations. We provide a variety of questions for each lesson for you to consider asking depending upon the ages you are teaching.
WHAT OTHER MATERIALS WILL WE NEED?
Our  material lists are found in the Director's Guide and in faith formation station guides for art, game, prayer, role play and technology materials.  Our snack guide contains a modestly priced grocery list. When creating lessons, we consider a variety of parish situations and you may choose adaptions if your parish is on a budget.​ At our  God is Good VBS Shop we suggest: T-shirts and/or CDs, color sheets and a fun item to encourage good behavior ("prizes" can be special time, too).
WHAT ARE YOUR THEMES?  WON'T CHILDREN MISS A CARNIVAL THEME OR FRIENDLY ANIMAL? 

Children come to Jesus naturally and embrace the rich treasures of our Catholic faith. Just as the Mass does not rely on trends to know Christ, we introduce our themes by enveloping children in the Bible, Jesus' life and His Church. God is Good VBS lessons explore friendly prophets of the Old Testament, the Gospels of the New Testament, our beautiful Catholic Teachings, Sacraments, Saints, the Apostles' Creed, our Liturgical Year, Vocations and more. Children learn as they pray, play, create, and sing!
WHY IS IT IMPORTANT THAT VBS LESSONS ARE DEVELOPED BY A CATHOLIC EDUCATOR?

Being seasoned Catholic teachers and experienced leaders, we understand how importantuser-friendly, full sized, lessons and guides are. We also understand how to catch children's attention about the objectives of the lessons. Scope and Sequences, classroom management, preparation, material lists and learning styles are carefully considered so leaders can easily lead VBS. "Child language" is used through out lessons and we have confidence in children's abilities, as we consider  the age group being taught. 
WHO HELPS CREATE GOD IS GOOD VBS CURRICULA?
We have an outstanding team help with many creative elements of our guides.  An experienced cook helps us with snack recipes.  We get fresh ideas from technology and physical education experts.  Our priest reviews our theology for an Imprimatur.  Our videographer and musicians are professionals. Thank goodness for our art graphic designer, as we are tremendously proud of the attractiveness and color in every lesson.



WHAT ABOUT GOD IS GOOD VBS DECORATIONS?
We believe that children's surroundings can be decorated by them, so children can certainly prepare assembly murals. You will see a sense of pride and joy as children decorate their own space.  However, it is also fun for the children to see posters and Holy Land items as they walk into their space. We continue to add assembly banners, stand-up cutouts, posters and more

and we have more ideas at our BLOG, too! 
​
COMMENTS FROM PEOPLE JUST LIKE YOU . . .
"We used your director's guide suggestions 
to recruit many volunteers and found seventy 
leaders to teach double the children we used
 to reach!" 
~ Myrtle Beach, SC, Catholic Church DRE
" I just want to tell you how OUTSTANDING and AMAZING this curriculum is. 
I can tell that you guys have poured your heart and soul into this 
and I'm so thrilled to implement a truly Catholic VBS at our church this summer! 
'So proud of you !!!!
 ~Lauren Finck Nelson, Midwest City, Oklahoma
"My favorite part of this summer VBS was the prayer station.
 We prayed in Church and Adoration and we learned about the stations of the cross. 
The little ones like that station too, because our leader was very spiritual 
and kept it understandable for their age." 
~ High School Volunteer, Watertown, MN Catholic Church
"I was tired of revising programs to add more Catechesis to the curricula. Other publishers did not infuse the children in their Catholic faith. So, when I saw God is Good Catholic VBS, I knew it would already be solid Catechesis and easy to plan and lead! 
~ Rob Layer, Past New York Catholic Church DRE, Presently Director of Catechesis in New York Diocese
" I enjoyed using a genuinely Catholic program. We have done VBS for decades at our parish but this may be the first time we have ever had a program that shared our uniquely Catholic faith with the kids. Our prayer station leader said that from the first day, the kids were so excited to learn the story of St. Isaac Jogues that they look forward to her station for the rest of the week." 
~ Christina, Catholic Church DRE who led Discovery Mission VBS, 2017
" I have never run through an obstacle course, or eaten yogurt covered raisins, grape juice, Swedish Fish and that 'new meat' (substitutes for Old Testament food) at a VBS. And, the music was better than last year. This week was so much fun."
~Nicolas, VBS Participant in MN
"Thank you for this Catholic program. I would not change a thing about your curricula. It went really well
 and the children really enjoyed it. We will be returning to purchase next year's theme."
~ Deb, North Dakota Catholic Church, Customer since our first summer.
"I am a music director and this is the first time I noticed the adults enjoying the music as much as the children. WLP (music publisher for God is Good VBS) offers energetic, excellent music. Thank you for making our car rides, with St. Luke Tunes CD, more enjoyable this summer!"
~ Heidi, Chanhassen Catholic Church, MN, VBS Parent
"A mom shared that her second grader was teaching his little brother part of the rosary, because the lessons
 teach about St. Luke's Gospel loving Mary. The program practically ran itself and my little theology experts 
were amazing." -Dina, Florida DRE who led St. Luke the Evangelist VBS