OUR STORY IS YOUR STORY . . . BECAUSE WE WERE READY FOR SOMETHING CATHOLIC AND SOMETHING NEW!
God is Good VBS began half a decade ago, after Julia Johnson, and many Catholic educators, noticed a tremendous need for a sound Catholic summer programs, that created energy for children, so they could grow excited about their rich faith. Providing fun activities, yet being committed to forming our children's faith, is critical when considering Vacation Bible Schools. Our Catholic Vacation Bible School programs enrich the Catholic faith and engage children in Scripture. We embrace the richness of Church traditions and Scripture while praying, creating, singing and playing. Guidance from the Holy Spirit fosters children's love for Jesus as they participate in these wonderful opportunities. The only activities that Julia enjoys more than developing curricula are working with other teachers AND, of course, spending time with children! Whenever you have questions about your curricula, we are only a phone call away. Julia also happens to be pictured with her family in the photo below.
The children in this photo are also some of our "curricula testing team." They have been our first "curricula test team" for several years. Emily, Benjamin, Ryan, Michael, Joshua and Mary Johnson - ages nine to nineteen - participate in every God is Good VBS game, art project, prayer, song, dance, role play and snack. Then we lead our curricula with a "large test group" too! Julia improves aspects of her curricula based on the children's feedback and performance of activities.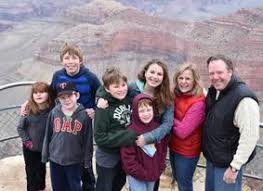 GOD IS GOOD VBS TEAM . . .
Spriere Productions of Excelsior, Minnesota produces our Dance DVDs
The late Father Mark Dosh provided the Nihil Obstats for our curricula. That was no small feat as he perfected our study of theology so that every lesson is taught in accordance to the Magisterium. Father Dosh was ordained in 1958 before studying in Belgium and Rome and taught philosophy and theology at St. Paul Seminary. He was also a priest abroad in Latin America. Father Dosh was a dear friend to the Johnsons, our parish priest for fourteen years, and has baptized and given first reconciliation and first communion to all of the Johnson children! He is dearly missed, as he passed away February, 2018. We pray for the repose of his soul, daily, but we are certain of God's Grace because our Father Dosh was so very Holy and kind.
Eric Johnson lends twenty five years of business experience and a strong Catholic background to God is Good Catholic Vacation Bible School. He has also "endured" being married to Julia for almost twenty-five years. He likes to say that having her teach their children is like having another child in the home all day long, as her energy and excitement can be a bit exhausting. "Not a bad day in the marriage . . . a bad week, a bad month, sometimes a bad year, but never a bad day. . . " And, Eric is also the very patient father to the Johnson children.
​Quick Turn Duplication duplicates our CDs, Dance DVDs, and flash drives. He is a media master and prices his work reasonably, as his own family participates in VBS.
Nicole Lunger contributes cover, marketing and logo designs for God is Good VBS. ​She is also our master of a webmaster!
John Holden ​manages the marketing and copy editing for God is Good Catholic Vacation Bible Schools. He has forty years of experience in advertising, marketing and writing, and has been deeply involved in church communications and stewardship.
Sam Alzheimer and Vianney Vocations provided the expertise when it came to vocation education and God is Good VBS provided the child language and the VBS knowledge to develop one of our most popular themes: Discovery Mission VBS.
Studio D Dance Company​ provides our Dance DVD dancers. They are outstanding dancers and guides for our dances. Studio D is located in St. Bonifacious, MN.
Brent Bischof prints our beautiful, one of a kind guides that we are most proud to offer our valued customers.